Sub Dealers
Warren and Denise Ropp: Iowa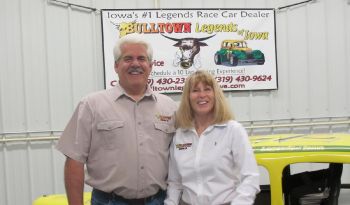 Kalona, IA
The Ropp family has a long history of involvement in motorsports. Starting with racing go-carts at a back yard dirt track. To racing cross-country snowmobiles for 500 miles from St Paul MN. to Winnipeg Canada. To competing professionally in the NTPA tractor pulling association with a national championship in 1986.  In 1996 we began racing legends cars, both asphalt and dirt for the first five years and then decided to concentrate on dirt only. The 2021 racing season will be the start of our 25th year of racing legends cars. We decided to become a dealer because we felt that we could promote and grow the sport that we enjoy so much, in the state of Iowa. We pride ourselves on fair pricing, prompt and reliable service. We look forward to the opportunity to serve you. Thank you very much!
Bryce and Mark Miller: Central Wisconsin
Columbus, WI
Hi, my name is Bryce Miller from Columbus WI and I am 21 years old. I am currently attending the University of Wisconsin Green Bay in pursuit of a Marketing Degree.  I come from a family with a long history of being involved in racing. For the 2021 racing season, I will be competing in the full Midwest Truck Series schedule along with select Limited Late Model and Outlaw Late Model races. When I am not at the racetrack or working in the race shop, you can find me at my friend's cabin, golfing, or camping. One fun fact, I once won an Outlaw Late Model heat race crossing the finish line in the 6th place!

N203 State road 89 Columbus, WI
53925

Phone: 920-350-5969 Bryce 
608-577-4252 Mark 
Nick Johnson: North East Wisconsin
Eden, WI
Driver/Owner -19J INEX Legend 
My Wife Lisa and I live in Eden WI where we raise our Daughter Aubrey. My little girl is my world.
I'm proud to serve and protect my community as a Volunteer Firefighter. 
I work full time at Lenz Truck Center in Fond du lac, WI were I'm a Shop Director / Lead Master Mechanic since 2009.
As a young kid my parents and I would go to Beaver Dam Raceway to watch family race. I couldn't wait for the Legends to start and when they did I would tell my parents "Some day I'm going to race a Legend". So at the age of 30 I finally met my goal. 2019 debuted my racing career.
Eric Blumer: Central Wisconsin
In his younger days, this Sun Prairie, WI, native was a karting champion on the dirt at Beaver Dam Raceway and the paved road circuit at Road America.  
Today, the INEX Legend pilot brings a ton of experience to our sub-dealer network.  The 2020 Wisconsin Legends Racing Dirt Series champion estimates he has broken and replaced almost every part on a Legend car, over the last three years.   We think he'll be a great resource for the other racers.
Eric will be a senior at the University of Wisconsin-Platteville  this fall, majoring in business.   "It didn't take my college education thus far, to tell me that having my own parts on hand was going to save me a lot of time.  I'm proud and grateful to be hooked up with Griff and expect to be able to deliver parts to others in a timely manner and help with some pointers to new Legends teams," said Blumer.